Back when I was in 4-H, in our craft class, we made long balls of rag material then sewed them together to make rugs, coasters, bowls, picture frames, ect. It was so fun. I made them for gifts at Christmas and everyone loved them. I thought I would share how I made them. I am sure a lot of you remember making these too, so please share your ideas and photos if you have them.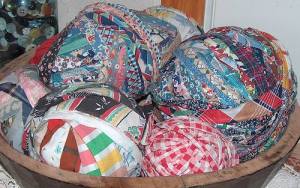 Fabric scissors

Some scrap fabric (you will want to choose a pattern too. Like a color pattern with 3-4 different colors or fabric of one color)

Needle and Thread

Embellishments (this is for making things like a picture frame. To add character to your frame)
First you will want to cut your fabric into strips usually about 3 inches wide. Determine your length by the type of project you will want to make and just be creative. Obviously you will want a long amount of fabric for larger projects.

Take 3 pieces of fabric and tie a knot at one end.

Braid until you reach the end and knot again or if you need a longer braid, just add in more fabric by knotting them at the end and continue braiding.

Now you are ready to use the needle and thread to make your projects
Coasters....

Take your braided fabric and sew with your needle and thread. Shape it into a circle or square. You can even make these larger for a pot holder or hot plate. Great project for kids to make as gifts. Just make sure Mom or Dad helps with the needle and thread.

Picture Frames....

Make this the same way you would the coaster, but add in some embellishments to the corder of the frame for looks. To hold a picture, I have used many things but love to use buttons. You can glue them in the corners, at the right distance to hold the size photo you would like to frame.

Bowls....

just start with a small circle, sew with your needle and thread. Then slowly sew and shape the bowl moving up with each row until you make your desired size bowl. These are cute for kids rooms or craft notions.

Rugs....

cut your fabric in long strips, tie them together with knots and make as long as you can. You can always add more if you need more. Or you can take braided fabric and bind together with a needle and thread. When you reach the end of one braid, just sew in the next and keep going until you reach the desired size.

A good tip for making a rug:

you can also use a large crochet needle to crochet your fabric into a rug.
These are super cute for gifts or just to keep all to yourself. There are so many color options and shape options for this kind of project. The bet part is just to think and be creative with each piece. Have Fun!