We have been loving hosting
{Shutter}
Love
every week and wanted to thank you all for participating each week. You have all made it so fun. We enjoy looking at each of your photos every week.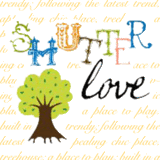 This weeks theme is
| Share |
To see all the rules for this fun party, please go
HERE
.
Want to see all the PAST Shutter Love Winners?
AND COMMENT BELOW
as much as you like.
Go
HERE
to grab one of our Buttons-We have NEW BUTTONS!
This photo was taken recently on a fishing trip with our kids. We wanted to |SHARE| with them our love of the outdoors and fishing was our choice this day! This was their first time fishing and they had a blast! We didn't catch any fish that day, but we were so happy that they had fun. We went fishing again this past weekend and we came home with a bundle of fish. The kids were super excited.
Jamie's
| Share |
Photo

Naomi and Micah really love their little sister and they love helping her out and giving her things to play with. This was at the end of a little impromptu lifestyle photo session that
we had yesterday! (I will be sharing the rest, later this week)
Link up your photo entries below. Don't forget to click on the LIKE button if you LOVE an entry.