We have been loving hosting
{Shutter}
Love
every week and wanted to thank you all for participating each week. You have all made it so fun. We enjoy looking at each of your photos every week.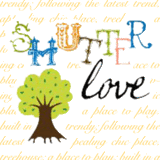 This weeks theme is
| Hair |
To see all the rules for this fun party, please go
HERE
.
Want to see all the PAST Shutter Love Winners?
AND COMMENT BELOW
as much as you like.
Go
HERE
to grab one of our Buttons-We have NEW BUTTONS!
I love showing off the hairdo's I do on my girls hair. So I thought I would share one of those today. You might have seen this hairstyle in another post, but I just had to share it in this weeks theme. Can you blame me? We had a dress up birthday party and this is how I fixed their hair. Pin and curled Bun, with lots of glitter and of course a beautiful flowered crown!
Link up your photo entries below. Don't forget to click on the LIKE button if you LOVE an entry.